This website may contain affiliate links and advertising so that we can provide recipes to you. Read my disclosure policy.
Casseroles are a simple and easy way to bring a delicious home-cooked meal to the table! They are so versatile and I have picked out 25 of my favorite recipes. You're guaranteed to find some that you and your family love!
The options of casseroles are endless and the hardest part is picking and choosing which one to make! They are all so incredible and I love that my favorite tastes are made up into something hot that sizzles right as it comes out of the oven! A few that I think will get you to love casseroles are Incredible Parmesan Zucchini Gratin, Overnight French Toast, and Best Ever Baked Rigatoni.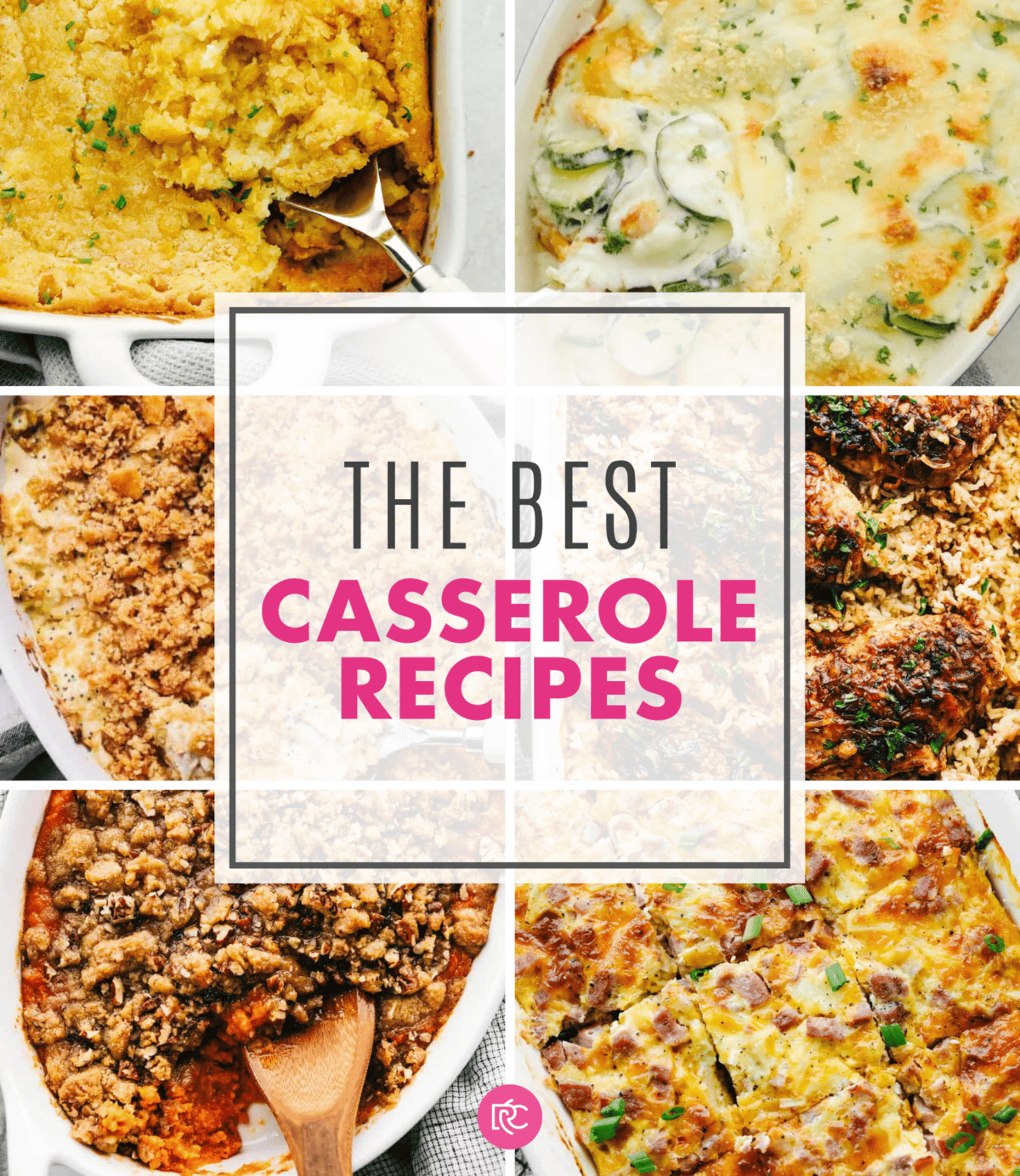 Why Casseroles are the BEST!
Have you ever been sick or had a bad week and a neighbor or friend brings you a delicious home-cooked meal? I have and guess what? It's usually a piping hot casserole! Casseroles are one of the fastest and smartest ways to bring a meal that is healthy and filling to your dinner table! They remind me of my childhood dinners and also those days when someone was thinking of me! I love how you can always find a casserole for just the occasion that you are looking for!
Casseroles have basically every option from tacos to eggs to noodles and everything in between. They can be cooked for breakfast, lunch, and dinner which makes it an easy YES for any meal! And, if you store it right, then you will have a solution for dinner for the next few days! It doesn't get much better than that! The best part is, I usually have a lot of the ingredients in my kitchen waiting to be made into something delicious! There are so many tried and true options that are so yummy! Below are 25 of my favorite casserole recipes to get you started.
Casserole Cooking Tips
Casseroles are an absolutely perfect option for so many meals! In order for them to turn out the best that they can, I have come up with a few tips to keep in mind! They are helpful to read through before cooking and they will help you achieve that perfect, bubbly, and hot casserole!
Use Fresh Vegetables: I know it's tempting to pop in a bag of frozen vegetables instead of cutting up some fresh ones. But this is a mistake that often results in a soggy casserole. If you have the option (and the recipe doesn't call for frozen) then go for fresh ingredients!
Dried Herbs vs Fresh: Fresh herbs don't last very long so most of us are using dried herbs from our spice drawer! This is a great option, especially in casseroles that have a cooking time of 1-2 hours. The dried herbs can better withstand the prolonged heat!
Uniform Pieces: Make sure that the ingredients you are cutting up are all about the same size. This will ensure that everything cooks through evenly!
Brown the Meat: If you brown the meat first, you will lock in all of its delicious juices! Your casserole will have more depth to its flavor.
Don't Fully Cook the Pasta: When using pasta in a

casserole dish

, you should undercook the pasta before you add it in. Cooking it this way lets your noodles still cook while the casserole is baking. This helps so your pasta isn't too soggy by the time its done!
Golden and Crisp: To make the top layer crispy, you can cook your casserole uncovered. Or, after the casserole is fully cooked, you can remove the cover and broil it for a few minutes. Be careful to watch closely while broiling- it goes fast!
Storing Leftovers and Making Ahead
One of the best parts about casseroles is how delicious they are as leftovers! Plus, they're SO easy to heat up. Here is how you should store them so that you can have a meal ready to heat up and go for the next couple of days! Or, you can also make a casserole ahead and freeze it! This is a great way to have some extra meals on hand for those extra busy days.
Refrigerate: Before placing it in the fridge, you will need to wait until your casserole is fully cooled. Then, you can cover it with foil or put it in an airtight container. It can be kept in the fridge for up to 4 days!
Freeze: Bake your casserole in a container that can be taken straight from freezer to oven. (I love to use those

disposable tin pans

.) Once your casserole is baked, let it cool. Cover it with foil until it is airtight and write the date on it. Your meal can last in the freezer for up to 4 months!
Thaw: If you froze your meal, take it out and thaw overnight in your fridge.
Reheat: Cook your casserole at the baking temperature listed on the recipe for about 20-30 minutes or until heated through.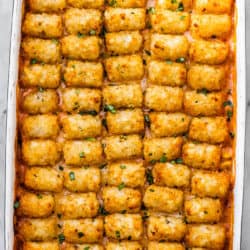 Cowboy Casserole
Cowboy casserole is a family favorite made with seasoned ground beef in a creamy sauce, corn, cheese, and topped with crispy tater tots. It's irresistible!
View Recipe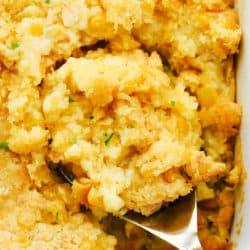 5 Ingredient Corn Casserole
5 Ingredient Corn Casserole in the oven in less than five minutes, it's the perfect side dish for the holidays with almost no effort at all!
View Recipe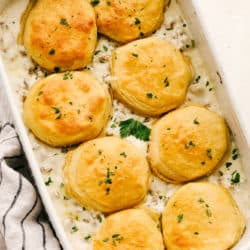 Sausage and Biscuit Casserole
Hearty, savory, and super satisfying, Super Easy Sausage and Biscuit Casserole is the perfect morning meal. This is a quick favorite and when you see how effortless it is you'll make it all the time.
View Recipe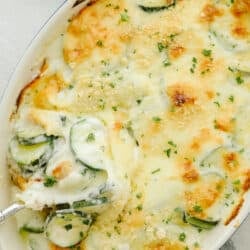 Three Cheese Zucchini Gratin
Three Cheese Zucchini Gratin has layers of creamy, cheesy sauce and is topped with a crunchy buttery topping. Ooey-gooey and cheesy, this low-carb take-on comfort food will please any crowd!
View Recipe
Tuna Noodle Casserole
This tuna noodle casserole is a family favorite that is filled with thick noodles, vegetables and tender chunks of tuna fish. All baked together in one pan in 30 minutes!
View Recipe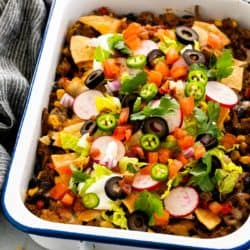 Taco Casserole
Taco Casserole recipe ready in just 30 minutes! Seasoned ground beef loaded with crunchy chips, melted cheese, and your choice of toppings.
View Recipe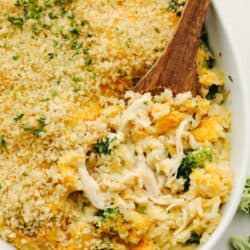 Broccoli and Rice Chicken Casserole
Broccoli and rice chicken casserole is a delicious, easy, family-friendly dish! It is creamy and filled with flavors that perfectly complement each other! You will love it!
View Recipe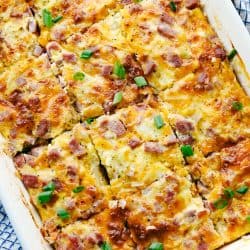 The Best Breakfast Casserole
The Best Breakfast Casserole is a thick and creamy egg base with shredded potatoes, chunks of ham and flavorful cheese blends that bakes up in no time. Make ahead or enjoy the morning of during the holidays!
View Recipe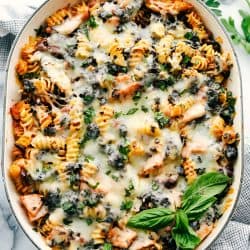 Turkey Mediterranean Casserole
This Turkey Mediterranean Casserole​ features artichokes, fusilli pasta, sun dried tomatoes and Lindsay® Kalamata Olives baked in a red tomato sauce and topped with Lindsay® Chopped Black Olives. Simple, delicious ingredients in 30 minutes!
View Recipe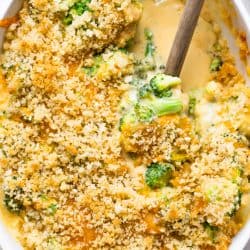 Broccoli Casserole
Broccoli Casserole. This cheesy, casserole is loaded up with fresh tender broccoli florets and baked in a homemade creamy cheese sauce, and topped with crispy buttered Panko crumbs. This casserole is sure to be a highlight!
View Recipe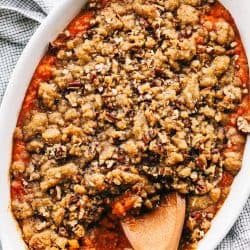 The Best Sweet Potato Casserole
The best sweet potato casserole is smooth and creamy, sprinkled with a brown sugar pecan mixture. It's a sweet and savory side dish that is perfect for the holidays!
View Recipe
Crack Chicken Casserole
Crack chicken casserole is creamy, cheesy, bacon-filled goodness that your family is going to want on repeat. It's the perfect comfort food and ready in 30 minutes!
View Recipe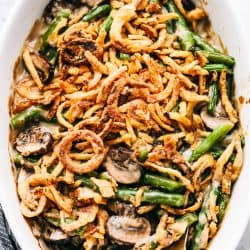 World's Best Green Bean Casserole
Green bean casserole is a classic, tried and true side dish that everyone loves! It's so delicious and creamy that it just might steal the turkey's spot as the star of the show!
View Recipe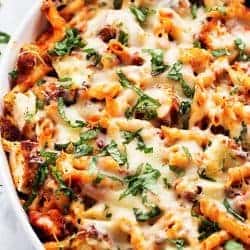 Chicken Parmesan Casserole
All of the goodness of chicken parmesan packed into a delicious cheesy casserole! Crispy chicken, marinara sauce, penne pasta, and cheese come together in this easy to make dish!
View Recipe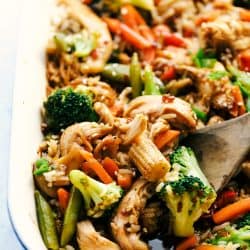 Easy Teriyaki Chicken Casserole
Easy Teriyaki Chicken Casserole is a simple casserole made with the best homemade teriyaki sauce filled with vegetable stir fry, rice and baked to perfection. A savory dish everyone loves!
View Recipe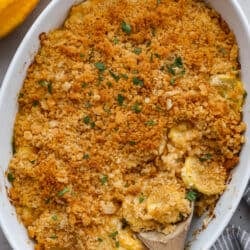 Squash Casserole
This recipe is the best way to use up that yellow summer squash! Squash casserole is a great way to use up fresh squash from your garden. Easy to make with a creamy, cheesy filling and a crispy, buttery topping!
View Recipe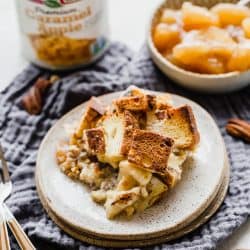 Caramel Apple Overnight French Toast Casserole
Caramel Apple French Toast Casserole is a sweet and savory breakfast with thick chunks of cinnamon swirl bread, warm apples and caramel drizzle that brings comfort to your family in one morning!
View Recipe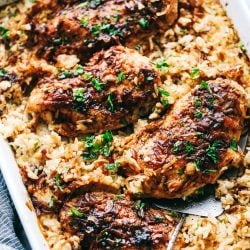 No Peek Chicken and Rice Casserole
No Peek Chicken and Rice Casserole is full of comfort and tender, fall apart chicken overtopping a flavorful rice that makes this meal a family favorite! Baking to perfection with the warm, steam cooking the chicken and rice to perfection.
View Recipe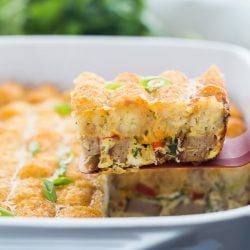 Tater Tot Breakfast Casserole
This Tater Tot Breakfast Casserole is an easy casserole, packed with flavor and perfect for breakfast or even dinner! Packed with eggs, sausage, peppers, spinach, cheese and topped with a layer of tater tots.
View Recipe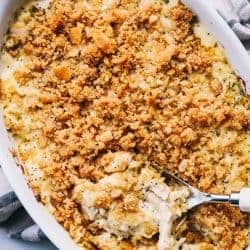 The Very Best Poppy Seed Chicken Casserole
Poppy seed chicken casserole is such a classic dish that is incredibly easy to make! A creamy chicken casserole topped with a buttery ritz topping; this will be the best casserole that you ever make!
View Recipe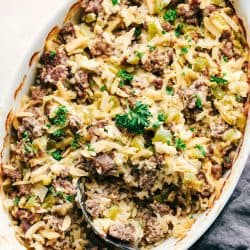 Easy Sausage and Rice Casserole
Easy Sausage and Rice Casserole is simple to make and big on flavor! Sausage, rice, celery, and onions all baked in a creamy sauce and the result will wow the entire family!
View Recipe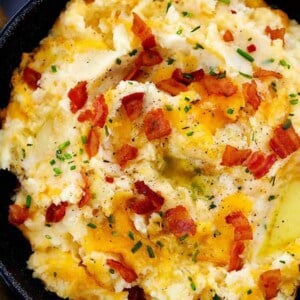 Cheddar Garlic Mashed Potato Casserole
Cheddar Garlic Mashed Potato Casserole is loaded with creamy mashed potatoes, garlic and cheddar. The flavor is incredible and they can even be made the night before!
View Recipe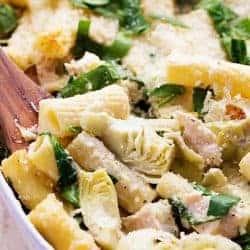 Chicken Spinach Artichoke Casserole
Creamy alfredo sauce with chicken, pasta, artichokes, and spinach come together in this incredible casserole! This will be one that the entire family is going to love!
View Recipe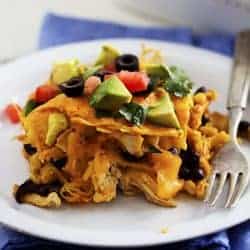 Loaded Stacked Chicken Enchilada Casserole
All of the goodness of an enchilada stacked into a casserole. This is loaded with cheese, olives, black beans, corn, chicken and is quick and easy!
View Recipe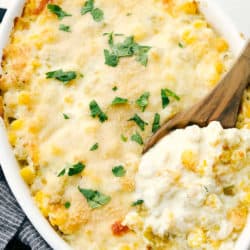 Hominy Casserole
Easy, creamy and cheesy Hominy Casserole is a side dish that is sure to impress. This is not your average dish, it takes hominy to a whole new level.
View Recipe